Shopping the Freret Market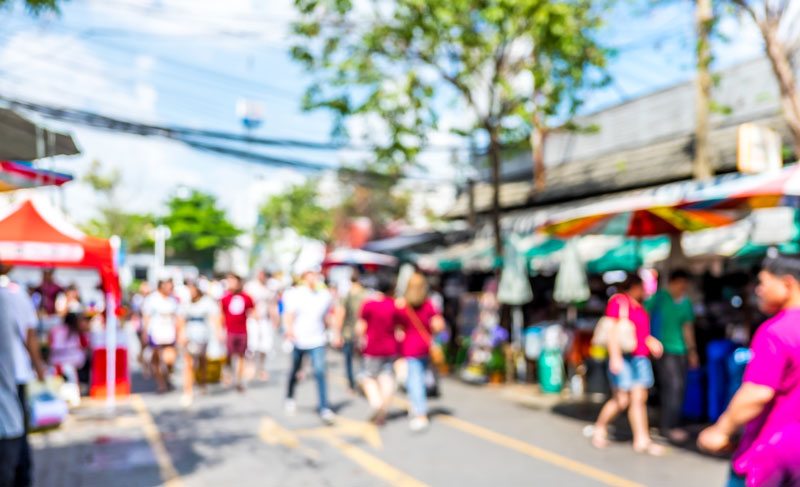 In a city that's decidedly not lacking in the art and farm markets, merch pop-ups, and food trucks, Freret Market stands out for its sheer size and the fact that it combines all those components — art, flea, food/farm, and live music. This open-air market is located at Freret Street and Napoleon Avenue and is held on the first Saturday of every month (except June-August) from 11 a.m. to 4 p.m.
The Freret Market was started in September 2007 to revitalize the Freret business corridor. Since then, it's grown to become a popular destination with special events and healthy attendance numbers. Besides the weekly food, art and flea vendors, the market regularly hosts local restaurant and catering business pop-ups and food carts. There are usually about 80-90 vendors total, plus live music, an area for kids; and pet adoptions available from Zeus Place, the market's fellow Freret Street neighbor.
Today's Freret Market is a vital part of the renaissance that Freret Street has been experiencing. The eight blocks stretching from Downtown to Uptown New Orleans parallel to St. Charles Avenue are known as a popular destination for food, shopping, and entertainment. The street hosts many restaurants, specialty shops, art galleries, bars, coffee shops, and more. It's also home of the annual Freret Street Festival, held on the first Saturday in April. The festival has been growing since the mid-1990s, with about 200 vendors participating last year.
The weekly sampling of food vendors at the Freret Market includes Iacovone Kitchen with fresh, chef-driven menu of panini, Gulf shrimp and rice bowls, Soulful Solutions NOLA (healthy versions of New Orleans' soul food faves), and The Creole Caveman (allergy-friendly, gluten-free Creole-inspired fare with many vegan offerings). You can also expect to see some of the local catering businesses and food trucks every week, such as La Cocinita, a gem of a food truck that dishes out the Venezuelan-inspired Latin American street fare, and Any O'Cajun, which serves Southern favorites like corn-and-crab bisque. While at the market, make sure you stop by the Gachi stall, to check out the artisan-crafted tea sustainably sourced from small farms and co-ops.
There are many opportunities to indulge your sweet tooth (check out Keyala's Pralines), get some locally made soap, candles, jerky, or pepper jelly. There are also plenty of art, flea and vintage vendors, farm stalls, and local merchants selling furniture, clothing, jewelry, and more.
Freret Market is located near the University District, which contains the Tulane and Loyola campuses. The area is easy to navigate and get to from the French Quarter and other areas by car and public transportation. There's off-street parking in the lot at the corner of Cadiz and Magnolia Streets, and plenty of street parking on adjacent streets.
And, please note: The Alder Hotel offers free self-parking in the parking lot directly across the street. It's relatively rare to find this amenity in New Orleans, so we hope you take advantage of it!
Stay in touch and save on rates and more at the Alder Hotel by signing up for our email list at https://alderhotel.com/email-offers/. If you find a lower rate on your Alder Hotel rooms at the time of booking, call 1.888.626.5861 to let us know, and we will match that rate!