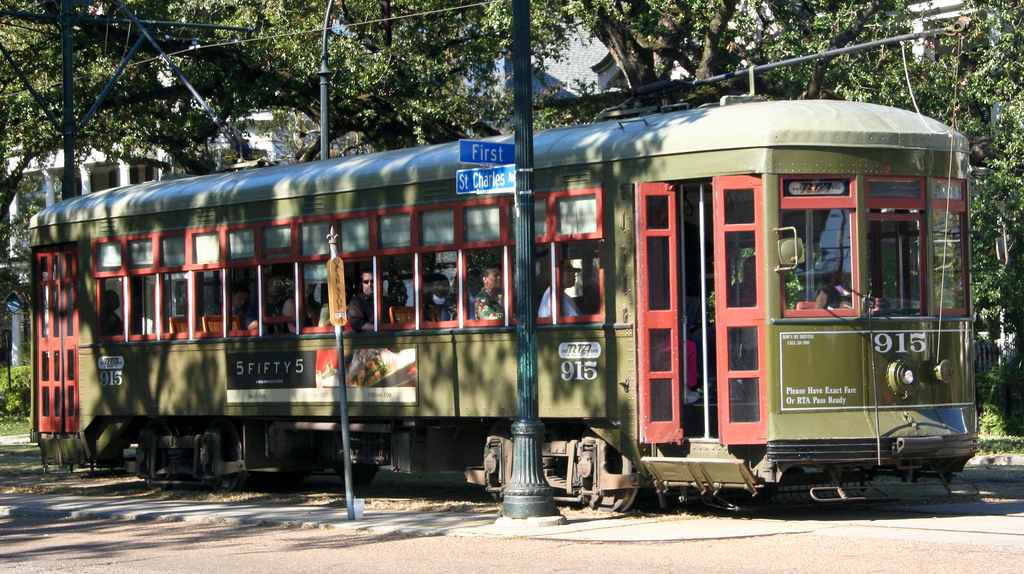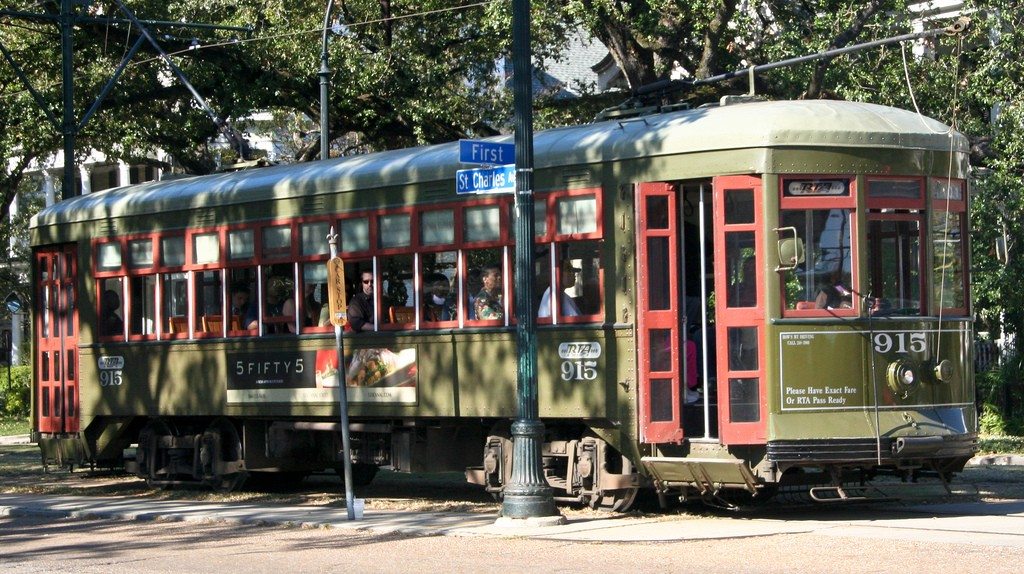 St. Charles Avenue Streetcar by Sharon Mollerus on flickr
Essential Stops and Sights Along the St. Charles Avenue Streetcar Route
There's a way to see New Orleans' Uptown, Garden District, Carrollton, and Central Business District (CBD) neighborhoods that are historically accurate, affordable, and entertaining. It's called the St. Charles Avenue streetcar, and a ride costs $1.25. Best of all, the streetcar stop is less than a mile away from the Alder Hotel — about a 15-minute walk. Here's what to know before you go and which destinations are worth a visit, organized by street addresses as you head further from Uptown and then downtown.
Streetcar Facts
Stroll to the intersection of St. Charles Avenue and Cadiz streets, where the streetcar stops. If you want to head downtown, stand on the riverside (south) of St. Charles Avenue. If you are heading further Uptown, stand on the lakeside (north) of St. Charles Avenue. Have exact change — $1.25 for a one-way ride, or $3 for a Jazzy Pass, which gives you unlimited rides for the day.
Pay the driver and settle into a vintage mahogany bench. St. Charles Avenue streetcars are not air-conditioned and are not wheelchair accessible, although that will change soon (the city's other lines using red, not green, streetcars are wheelchair accessible, by the way).
To make a stop, simply pull the horizontal cord running across your window to signal to the driver that you want to get off. Ideally, you should exit using the rear doors, but this recommendation is often ignored by locals and visitors alike.
Stop 1: 

Audubon Park

 (6500 Magazine St.)
Begin your streetcar adventure by heading further Uptown to Audubon Park. You should see the live oak trees, running paths, lakes, and playground equipment from the streetcar, but if not, just pull the cord when you hit Calhoun Street. Take a stroll through the 350-acre public park, where New Orleanians have come to relax since 1898. At the very rear of the park lies the Audubon Zoo. The elephants, tigers, white alligators, monkeys, and other animals make a visit to this beautifully landscaped zoo a must.
Stop 2: 

Tulane

 and 

Loyola

 Universities (6363-6823 St. Charles Ave.)
You'll spot the campuses of Tulane and Loyola universities right across Audubon Park. Placed on the National Register of Historic Places, Tulane University's campus occupies more than 110 acres and extends north to S. Claiborne Avenue through Freret and Willow streets. From the Italian Renaissance to Mid-Century Modern, the campus boasts many styles and is known for its large live oak trees.
Loyola's sprawling main campus also faces St. Charles Avenue and Audubon Park. Marquette Hall is the oldest campus building and is the iconic image of the university you'll probably recognize the most. Both campuses deserve a walkthrough thanks to their architectural significance and well-landscaped grounds.
This museum sits on Tulane University's campus, and it is free and open to the public. Past and present exhibitions have focused on works by contemporary abstractionists and contributions by women artists in the multi-disciplinary fields spanning art and design. Be sure you have a map handy, and check hours before you go.
By this time, you've probably worked up an appetite. Head further Uptown, to the Riverbend area, and hop off at the Camellia Grill, a classic diner where white-jacketed staff members serve up delicacies ranging from grilled pecan pie to cheeseburgers and cherry-chocolate slushies. There may be a line of Tulane students, tourists, and locals waiting for a seat, but it's well worth the delay. Get in line and find out why Camellia Grill has been an institution since 1946.
To get to the Ogden, also get off at Harmony Circle. You'll find this museum a block away on Camp Street, which runs parallel to St. Charles Avenue. The Ogden puts a spotlight on the visual arts and culture of the American South, holding some of the largest and most comprehensive collections of Southern art in the U.S. The museum was founded in 1999 with donations of more than 600 works from New Orleans businessman Roger H. Ogden's private collection and has grown since to include more than 4,000 works.
The CAC is a must-stop and a Warehouse District staple, with an impressive roster of events ranging from world-class visual arts exhibitions to performing arts shows. There's always something cooking up at this vibrant cultural hub: art camps, workshops, avant-garde music shows, and much more. The building, a historic 1905 warehouse located between Andrew Higgins Drive and St. Joseph Street one block from Lee Circle, is a sight to behold. Inside, it's a 30,000-square-foot dazzling maze of sunlit open spaces, site-specific art installations, theaters, studios, and an atrium.
If you happen to be here in August, the CAC hosts a massive and popular White Linen Night on the month's first Saturday. The first Saturday in October is reserved for another important art happening, Art for Art' Sake. The CAC's party calendar is full year-round, however, with the venue hosting everything from world-renowned jazz musicians to burlesque to beloved Louisiana acts like Lost Bayou Ramblers.
You can't miss the imposing building on the corner of St. Charles and Napoleon Avenues, so hop right off for some seafood-centric Creole fare with some of the best views of St. Charles Avenue in the city (and some prime parade-watching spots if you're here during Mardi Gras). The decor has a lot going for itself too: gigantic windows, a 32-foot zinc bar imported from France, vintage wood floors and beadboard ceilings salvaged from the New Orleans' long-gone landmarks, antique French dining chairs, oversize wall mirrors, and porch and patio seating.
The menu is Louisiana classics, from po-boys to whatever fresh catch is swimming in the Gulf. Take advantage of the popular happy hour and a full-service oyster bar: deals on raw oysters, washed down with Superior's signature frozen pomegranate mojito.
Stop 8:

The Avenue Pub

 (1732 St Charles Ave.)
This iconic Lower Garden District pub boasts fireplaces, tin ceilings, a balcony overlooking St. Charles Avenue, a pool table, and sidewalk and patio seating. Under new ownership since 2022, the pub churns out quality grub and features a ton of craft beer.
Stop 9

:

Herbsaint

 (701 St. Charles Ave.)
James Beard Award winner Chef Donald Link's wildly popular restaurant predates Katrina and remains the flagship of the Link Restaurant Group (which runs several businesses including Peche, Cochon, and La Boulangerie). Herbsaint has been and continues to be on many "Best Restaurants" lists for reasons that will become clear as soon as you dig into its crispy goat, or shrimp and fish ceviche — or anything. The menu is best described as French-Southern, with some Italian influences (evident in the presence of housemade gnocchi and spaghetti), with a spotlight on local, seasonal produce and sustainably sourced seafood and meats.
Herbsaint offers a great view of St. Charles Avenue and outdoor seating. Ask the knowledgeable staff for pairing recommendations from the restaurant's eclectic wine list.
Desi Vega's Steakhouse is an elegant, high-ceilinged space with street views and lots of room. It's located inside the Lafayette Hotel, a French Regency-style 1916 landmark overlooking Lafayette Square. The menu is classic ribeye and filet mignon, seafood, and sides, but with local touches like Andouille and crawfish mac 'n' cheese named after Freddie McAfee, a former New Orleans Saints player. Two full bars flank the staircase at Desi Vega, with a daily happy hour.
Spot 11:

Gallier Hall

 (545 St. Charles Ave.)
This historic Greek Revival building overlooks the charming Lafayette Square in New Orleans' Central Business District (CBD) and has a colorful past. Built in 1845–53, it used to house the City Hall, hosted many events during the Reconstruction and Huey Long eras, and is still in use today. Such important New Orleans figures as Jefferson Davis, General Beauregard, and, most recently, the local R&B legend Ernie K-Doe lay in state in Gallier Hall. It also remains a focal point of the Uptown Mardi Gras parades.
The building is considered to be one of the finest works of architect James Gallier, standing three stories tall and featuring Tuckahoe marble and two rows of fluted Ionic columns. Inside, Gallier Hall is a treasure trove of grand ballrooms full of paintings, antique frames and mirrors, clocks, Steinway pianos, and dozens of chandeliers. A large-scale renovation has been completed in March 2018 as part of the city's tricentennial celebration, refurbishing the period details and installing a state-of-the-art A/V system.
Stop 12:

Luke

 (333 St. Charles Ave.)
Luke joins an impressive roster of CBD's notable restaurants with its prime location and brasserie vibe. Executive Chef Erick Loos helms the kitchen, and his French/German menu has a Creole flavor and highlights fresh, seasonal ingredients that come from the Gulf and local farms in dishes like stuffed Gulf oysters, Creole seafood, and sausage gumbo. The elegant dining space contains a raw bar, and you can get raw oysters for a bargain during Luke's happy hour. Other highlights are Luke's massive burger and its famous French 75 as well as other bartender-created specialty cocktails.
Well, there you have it. From there, you can walk or take the streetcar down to Canal Street to kick off a night in the French Quarter, or ride back Uptown and call it a night. Either way, you'll have gotten in a full day of sightseeing, eating, and drinking.