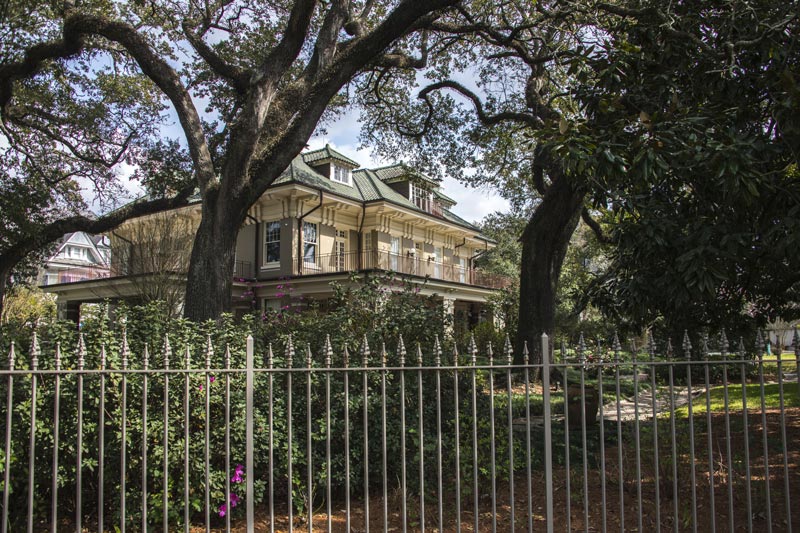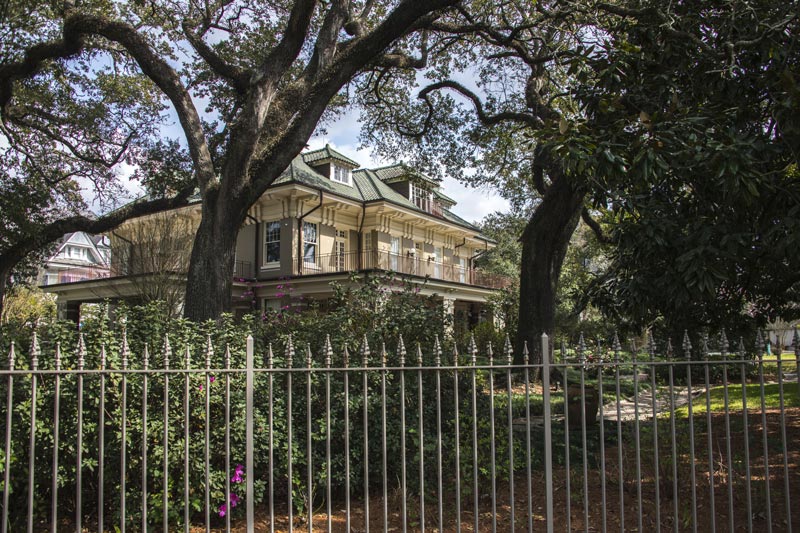 You don't have to drop serious cash anywhere in New Orleans to have a great time, and Uptown is no exception. You can still eat really well and get around for a little over a dollar to see some astonishingly beautiful sights. Here are our budget-friendly recommendations near the hotel.
Free parking from Alder
Alder offers complimentary self-parking in the parking lot directly across the street from the hotel — take full advantage as street parking in the area is limited, and commercial parking lots could be pricey.
The sightseeing
For just $1.25 per ride, hop on the historic streetcar that runs along St. Charles Avenue. It can take you all the way to Canal Street (the French Quarter is just across the street), and to the Riverbend in the opposite direction. Many visitors use this opportunity to soak up some incredible views of the stately mansions and live oak trees the Garden District and Uptown are famous for. If you plan to hop on and off the streetcar, you can buy one-, three-, or five-day Jazzy passes online. We also highly recommend taking a (free) self-guided walking tour.
Next,  enjoy the urban oasis of the historic Audubon Park. This 350-acre public park, where New Orleanians have come to relax since 1898, has a 1.8-mile jogging path, tennis courts, riding stables, soccer fields, plus an area behind the Audubon Zoo and along the Mississippi River called The Fly that is great for walking.
For under $25, you can also hit the historic Audubon Zoo located at the rear of the park (you can save money by buying tickets online). The elephants, tigers, white alligators, monkeys, and other animals make a visit to this beautifully landscaped zoo a must.
While you're in the area, why not walk through the grounds of two historic universities, located next to each other? You'll spot the campuses of Tulane and Loyola universities right across Audubon Park. Placed on the National Register of Historic Places, Tulane University's campus occupies more than 110 acres and extends north to S. Claiborne Avenue through Freret and Willow streets. From Italian Renaissance to Mid-Century Modern, the campus boasts many styles and is known for its large live oak trees.
Loyola's sprawling main campus also faces St. Charles Avenue and Audubon Park. Marquette Hall is the oldest campus building and is the iconic image of the university you'll probably recognize the most. Both campuses absolutely deserve a walkthrough thanks to their architectural significance and lush grounds.
Also, take note: The Newcomb Art Museum on Tulane University's campus is free and open to the public. Past and present exhibitions have focused on works by contemporary women abstractionists and other contributions by women artists in the multi-disciplinary fields spanning art and design.
Eating and drinking
For a well-priced breakfast, head to the Riverbend area, and hop off at The Camellia Grill (626 S. Carrollton Ave.), a classic diner where white-jacketed staff members serve up cheeseburgers, grilled pecan pie, and cherry-chocolate slushies. Get in line and find out why The Camellia Grill has been an institution since 1946.
Need a caffeine fix? Mojo Coffee House (4700 Freret St.) is a cozy, welcoming hangout where you can grab small-batch roasted coffee and a vegan muffin, and connect to wi-fi.
For lunch, grab a cheese plate or a sandwich from St. James Cheese Company, and sit outside for some people-watching. Dat Dog's both Uptown locations (3336 Magazine Street near Louisiana Avenue and 5030 Freret Street near Soniat Street) have dog-friendly outdoor seating, great for people-watching too. The very affordable Dat Dog dishes out a wide variety of meat, fish, vegan and veggie hot dogs, sausages, and other comfort food like burgers and chicken. The dogs and the sausages come with a choice of more than 30 toppings.
We also recommend The Company Burger on Freret and Cadiz streets (4600 Freret St.) for its affordable menu of delicious burgers, fries and milkshakes. The menu keeps it simple with the award-winning lamb, turkey, and beef burgers, plus sides, shakes, and cocktails. The "not burger" options are also kept simple: hot dogs, and grilled cheese and fried chicken sandwiches.
Guy's Po-Boys is a no-frills, budget-friendly, beloved local lunch staple since the early 1990s. It's often voted among the top five po-boy shops in the city, if not the top. The fried shrimp po-boy is definitely among the best in the city.
Nomiya defines itself as a New Orleans ramen bar and sticks to it by serving the traditional, pork-based tonkotsu plus two more types of broth. The menu is simple: pick your broth and the toppings, and maybe supplement with edamame and pork buns. The mochi ice cream flavors rotate.
Coming from the people helming Commander's Palace, including co-founder and owner Tory McPhail, the former executive chef at Commander's, Picnic Provisions & Whiskey is a casual family-friendly spot serves comfort food cold and hot. Check out the mouthwatering hot fried chicken thighs along with a buttermilk biscuit and Cajun potato salad (crawfish boiled potatoes, sweet corn, chopped egg topped with crushed jalapeño Zapp's chips). Eat indoors or outdoors, and bring your family and your pup.
A great on-the-go option on the bustling Magazine Street, Tal's Hummus is a quick-service-style tiny spot that specializes in Israeli-inspired food such as falafel, hummus, pita sandwiches, platters, kebabs, salads, and more. It's fresh, quick, delicious, and made to order.
The family-owned and wallet-friendly Sarita's Grill (4520 Freret St.) is a good option for both dinner and lunch. This Mexican and Cuban popular eatery has a loyal local following, and you'll understand why once you try Sarita's fish tacos or housemade guacamole.
Taqueria Corona is a go-to for the whole family if you're craving well-done classic Mexican food like tacos and burritos. The house margarita is a good deal, and tasty, too. This Uptown sit-down is popular for very good reasons and always seems to be packed, but the service is efficient, so you'll be seated quickly. Taqueria Corona is not just our dinner recommendation, it's a great pick for brunch and lunch as well.
Piccola Gelateria, a classic Italian gelateria with crepes and Italian flatbread sandwiches, can satisfy a craving for something sweet with over a dozen flavors of its small-batch, housemade gelato and sorbetto (and the crepes come in both savory and sweet options). Piccola Gelateria also sells its own, custom-blended, micro-roasted espresso.
For sipping on the budget, hit a happy hour at the James Beard Award winner Cure (4905 Freret St.) or Superior Seafood & Oyster Bar (4338 St. Charles Ave.). Sidle up to Superior's 32-foot French zinc bar and enjoy raw oysters and Superior's signature frozen pomegranate mojito.
Want to see some local music for a small cover? The venues we recommend in our guide to the 24-hour itinerary in Uptown New Orleans often have covers as low as $10, especially for their earlier shows, so check those out.
Happy exploring Uptown New Orleans on a budget! We promise you, it's very doable.