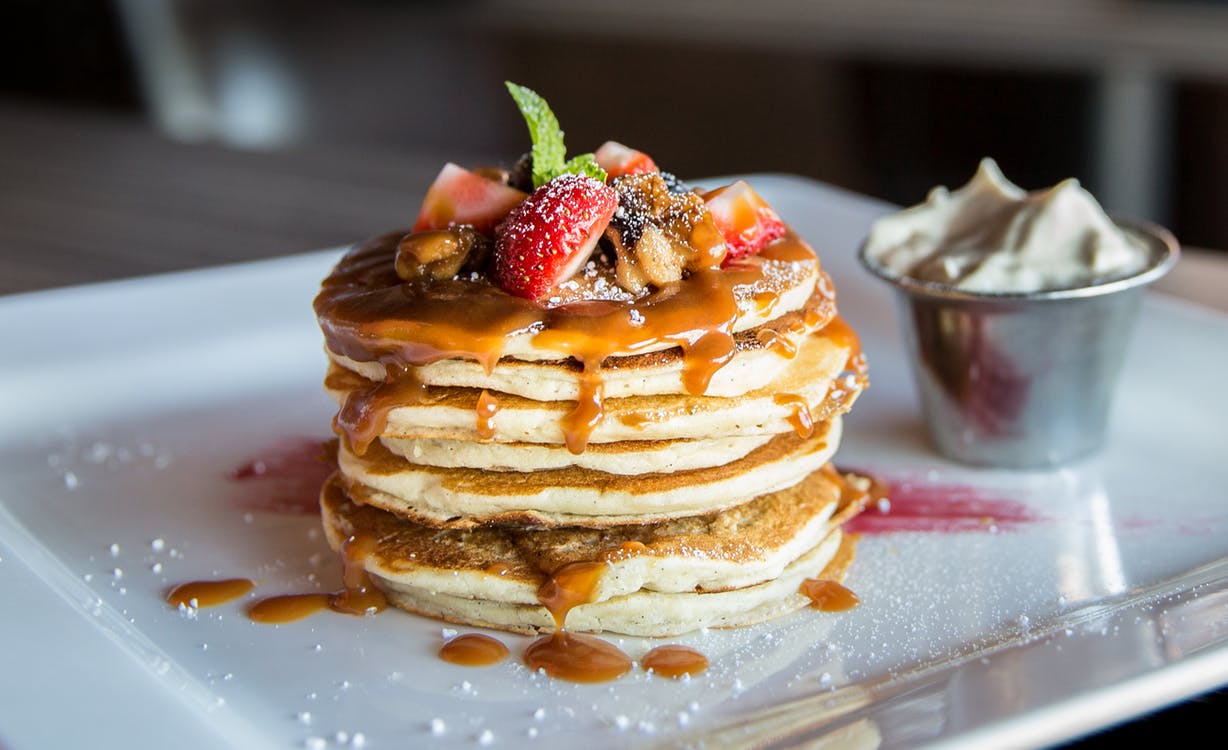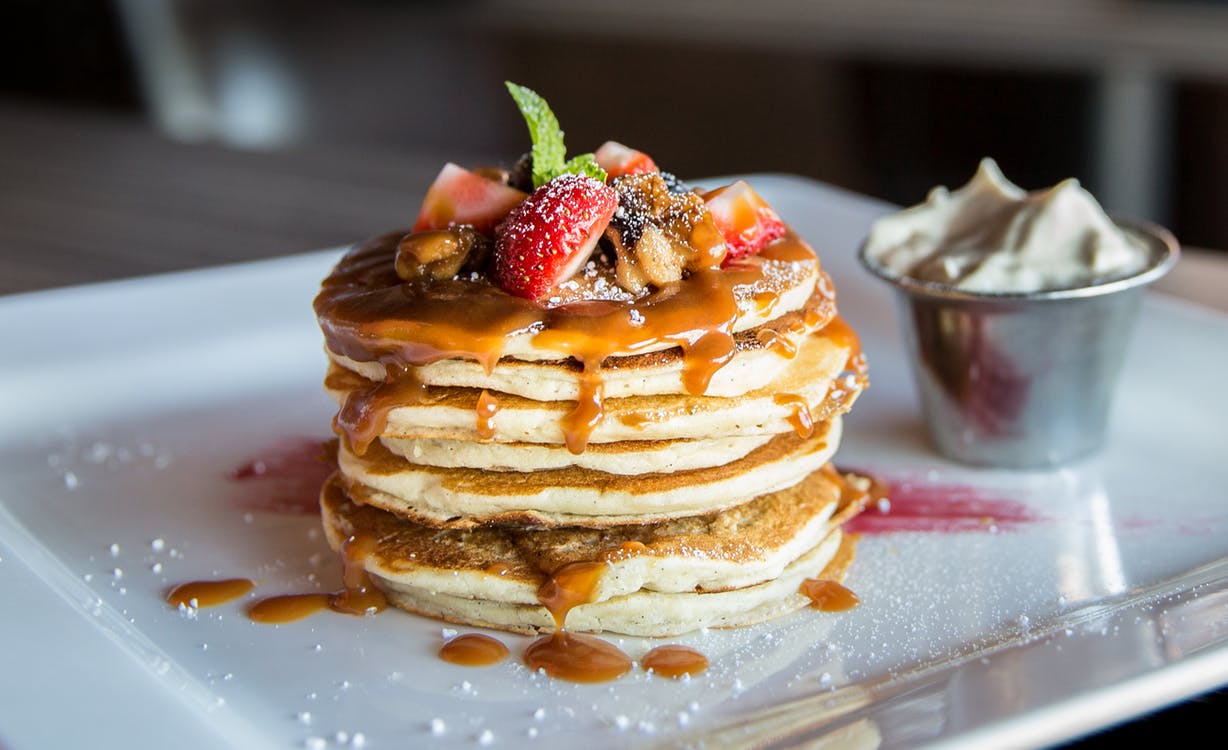 Breakfast is the most important meal of the day… and that goes double when you're vacationing in New Orleans. It offers both an opportunity to recover from the previous night and a chance to build a solid foundation for a busy day. And if you are not an early riser, and depending on how much time you have, breakfast can morph into a lingering brunch! Whether you're looking to chow down on banana pancakes or sip a cold-pressed green juice, there's a breakfast or brunch spot for you within a stone's throw (or a short ride away) of your room at Alder Hotel Uptown.
This is a popular brunch destination on the bustling commercial corridor of Magazine Street with pancakes, brunch specialties like crab cake Benedict and eggs with crawfish and Andouille, signature omelets, and specialty spiked cold brews and Bloody Marys served in mason jars.
Less than a block off Freret Street and within walking distance of Ochsner Baptist Medical Center and the Tulane and Loyola University area, this full-service cafe offers lunch and breakfast plus sustainable coffee. The menu is mostly comfort food, divided into "Good Cat" and "Bad Cat" sections. The lighter fare is full of gluten-free, vegetarian and vegan options like vegan tofu scramble and house-made yogurt. The hearty "Bad Cat" offers items like traditional breakfast fare of the eggs-and-bacon variety, and Southern staples like shrimp and grits.
Sandwiches, toast, pastries, and the best iced cold-drip coffee New Orleans has to offer, all served in a high-ceilinged, Edison bulb-hung space — that's what you'll find at French Truck Coffee. There's no better way to while away a morning than with an iced latte in hand.
The award-winning Gracious Bakery + Cafe has another location Uptown, at 2854 St. Charles Avenue, on the corner of 6th Street in the Garden District. All baked goods and breakfast sandwiches are top-notch, and there are house-made granola and house-cured salmon bagels.
Humble Bagel's creations are made in-house daily, from scratch, with just five ingredients, and in small batches (the proprietors are big on minimizing food waste and using locally sourced ingredients when possible). The place is open till 1 p.m. Thursday through Sunday, or until they sell out. The menu is kept simple — bagels, cream cheese, and breakfast combos like eggs, bacon, and lox — and it's worth getting up early for.
Tarts, scones, quiches, and muffins at this French bakery and cafe are almost too pretty to eat, and all menu items are hand-prepared according to traditional recipes. Sit at a sidewalk table with an almond croissant and a cafe au lait and feel like you've been transported to Paris.
Looking for a cozy, welcoming hangout where you can grab small-batch roasted coffee, a vegan muffin, and connect to wi-fi? Mojo Coffee House is the spot. You won't find full kitchen service at this laid-back coffee house (the counter-service destination is more of a pastry-and-sandwich variety), but for those mornings when you just need caffeine and a quick bite, nothing beats Mojo.
The followup to nationally buzzed-about Turkey and the Wolf is also worth a visit. Only open Thursday through Monday, from 8 a.m. till 2 p.m., Molly's serves a mean breakfast full of items like bagel bites, burritos, the star special, the Grand Slam McMuffin (pork patties, hashbrowns, onions, American cheese), but also lighter fare like the roasted carrot yogurt.
In addition to small-batch, house-made gelato and sorbetto, this classic Italian-style gelato shop offers crepes (savory with meat, sweet with Nutella, and vegetarian). Piccola Gelateria sources local milk and cream, and sells its own, custom-blended, micro-roasted espresso. The place opens at noon and could serve well as a brunch destination.
Raw Republic's cold-pressed, organic juices are a healthy way to kickstart your day. The bright, modern storefront offers smoothies, salads, cereal, and grab-and-go vegan fare, too. Though the storefront is tiny, a staircase leads to an upstairs room with balcony seating — perfect for people-watching while sipping your green juice.
A bright, quaint daytime cafe best known for its hearty American breakfast. Since opening in 1998, Riccobono's Panola Street Cafe has become a New Orleans fixture, known for some of the best breakfast in the city. Panola serves classics like Eggs Benedict, Crabcakes Benedict, and a host of specialty omelets from open to close (8 a.m. – 2 p.m.), along with hot-plate lunch specials every weekday.
An inexpensive local hangout with Southern staples and plenty of local color. Some of the house specialties are the inventively named slammers (different kinds of scrambles, from meaty to vegan, served with hash browns). The Creole Slammer, for instance, comes with a biscuit and crawfish etouffee. There's also a lovely patio.
This legendary New Orleans diner has been serving hearty omelets and pecan pie since 1946. There will probably be a line, but it moves quickly, and you can get breakfast all day.
This casual neighborhood eatery on the corner of Freret and Jena streets specializes in the Mississippi Delta and Louisiana staples like catfish, Gulf seafood, and slow-roasted pork served along with a long cocktail menu. Pimento cheese is prominently featured in the house burger, specialty fries, and even deviled eggs. How about a Southern feast of catfish with hushpuppies, braised greens, and black-eyed peas for brunch? Or try the Gumbo Ya-Ya with sweet potato salad. You'll feel like you're in an old-fashioned diner, only with a full bar. The tall glass windows offer a prime opportunity to people-watch, too.
The Rook, a quiet hangout popular with the locals, serves vegan pastries and locally roasted coffee. Free wi-fi and shelves lined with books and tabletop games are also a draw. The cozy coffee shop also hosts frequent gamers' nights and pop-ups.
This locally owned mini-chain is a must-go for heaping Southern staples like eggs cochon, shrimp and grits, and bacon praline pancakes. It's got its award-winning formula down with generous portions, killer cocktails, upbeat and quick service, and a down-home vibe. Even if there's a wait, it will be worth it.
Hopefully, this inspires you to go out and sample some local breakfast and brunch deliciousness near the Alder Hotel!
Stay in touch and save on rates and more at the Alder Hotel by signing up for our email list at https://alderhotel.com/email-offers/. If you find a lower rate on your Alder Hotel room at the time of booking, call 1.888.626.5861, and we will match that rate, too.