Late Night Eats Uptown New Orleans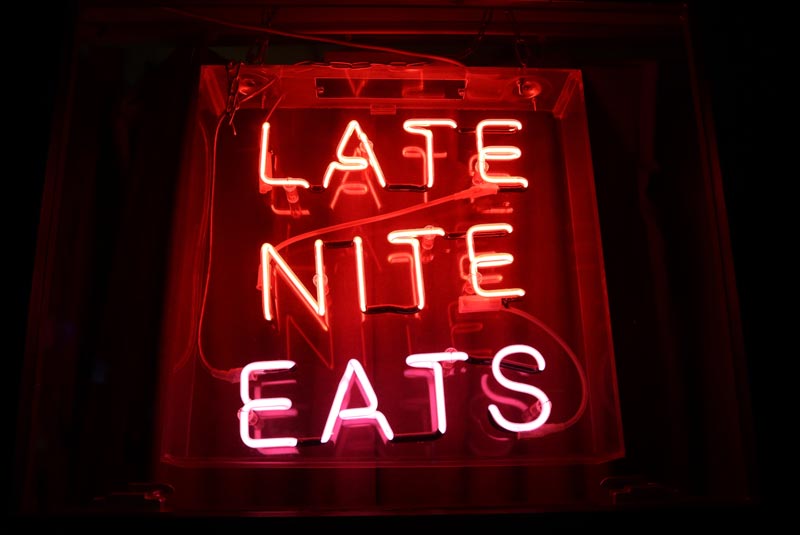 Although New Orleans can't claim, like some other cities, that it never sleeps it surely goes to bed late. This is good news for those of us who want diverse and affordable food options after most restaurants stop serving dinner. Here are our recommendations for the Uptown area of New Orleans, which can hopefully help you make smart and satisfying food choices in the wee hours — whether you want a full decadent meal, a healthy snack to go, or some comfort food.
Bouligny Tavern
3641 Magazine St.
This chic gastropub is located just outside the Garden District on Magazine Street, right next to its sister restaurant, Lilette. There's a heated patio that's perfect for winding down with one the restaurant's signature cocktails, and small plates like anchovy toast and mushroom bruschetta.
Open till: Mon.-Thu.: Midnight; Fri.-Sat.: 2 a.m.
Camellia Grill
626 S. Carrollton Ave.
This landmark 1940s diner in the Carrollton section of New Orleans, located on Carrollton Avenue near its intersection with St. Charles Avenue on the St. Charles Streetcar line, is worth the wait if there happens to be a line. It's a go-to for both a late-night stopover and an early breakfast. The bow-tied, jacketed servers are famously friendly, the service is fast, and the omelets are divine. The place is also known for its freezes and pecan pie heated on the grill.
Open till: Sun.-Thu.: Midnight; Fri.-Sat.: 2 a.m.
Cooter Brown's
509 S. Carrollton Ave.
Cooter Brown's has been a Riverbend/Black Pearl college hangout since the 1970s. With its 17 TVs and over 400 beers, including a variety of craft beer on tap, it's both a destination and an institution. The menu impressively contains everything from the pub grub to raw oysters and specialty po-boys, and the French fries come with many toppings, like roast beef debris gravy and bacon.
Open till: Kitchen: 1 a.m.; Bar: Till (3 a.m. or so)
Crêpes à la Cart
1039 Broadway St.
Located only a couple of blocks from Tulane University campus, this French-style crêperie offers over 50 kinds of crêpes — both sweet and savory. Breakfast crêpes (topped with egg, cheese, bacon, and other breakfast staples) are served all day. There are also offerings with smoked salmon, all kinds of cheese, and Nutella. You can pick from the extensive menu or build your own crêpe.
Open till: Midnight or later.
Cure
4905 Freret St.
The James Beard Foundation award-winning cocktail bar is a must-stop if you're serious about your cocktails. In addition to serving all kinds of classics alongside its own versions, Cure also has a range of bar snacks, elevated small plates, and full-on entrees.
Open till: Mon.-Thu.: Midnight; Fri.-Sat.: 2 a.m.
Fresco Café & Pizzeria
7625 Maple St.
This pizzeria has a large menu of pizza, stromboli, sandwiches, pita wraps, and sides. One of the signature items are lavash rolls, served with rosemary potatoes, and filled with pulled pork or roasted eggplant.
Open till: Sun.-Thu.: Midnight; Fri.-Sat.: 1 a.m.
Hoshun
1601 St. Charles Ave.
Hoshun draws on the cuisines of China, Japan, Vietnam, and other south Asian countries. This makes Hoshun's huge, globe-trotting menu of sushi, pho, General Tso's chicken, and much more, perfect for late-night dining. Try one of the well-priced combo platters like Hunan shrimp.
Open till: 2 a.m. daily.
Midway Pizza
4725 Freret St.
This Uptown spot serves up 20 deep-dish signature pizzas (or you can build your own) alongside big salads and classic appetizers like pigs in the blanket. There's also a full bar.
Open till: Sun.-Thu.: 11 p.m.; Fri.-Sat.: Midnight.
Raising Cane's
1406 St. Charles Ave.
Sometimes only fast food would satisfy that late-night craving, and Raising Cane's St. Charles Avenue location does it well with a quick turnaround and the chain's specialties like fried chicken fingers, coleslaw, crinkle-cut fries, and Texas toast.
Open till: 11 p.m. daily
The Avenue Pub
1732 St. Charles Ave.
This iconic Lower Garden District pub boasts fireplaces, tin ceilings, a balcony overlooking St. Charles Avenue, a pool table, and sidewalk and patio seating. The downstairs bar is open 24/7 and the small kitchen churns out high-quality pub grub like cauliflower hummus and currywurst. The menu is limited and can't accommodate food allergies, but Nathaniel Zimet of Boucherie is a consulting chef so some of his recipes, like Dump Truck Fries with bechamel and lemongrass pulled pork, grace the list. The house burger, 7 oz. of artisanal beef loaded with veggies and cheese, comes on challah bun from Gracious Bakery. For beer nerds, the daily tap rotating menu is posted online.
Open till: Food: Sun.-Thu.: 2 a.m.; Fri.-Sat.: 4 a.m. The downstairs bar is open 24/7.
The Delachaise
3442 St. Charles Ave.
This wine bar is famous for its wines by the glass (350 total, glass and bottle) and its French-inspired but ultimately international fare like housemade pâté and fried frogs legs with remoulade. The space is lovely and romantic, with a spacious patio.
Open till: Mon.-Thu., Sun.: 1 a.m.; Fri.-Sat.: 2 a.m.
Trolley Stop Cafe
1923 St. Charles Ave.
Another New Orleans landmark, Trolley Stop serves homestyle southern staples and all-day breakfast around the clock on weekends. It's comfort food at its best, and super affordable.
Open till: Sun.-Wed.: 2 a.m.; Thu.: 10 p.m.; Fri.-Sat.: Late night.
Happy late-night dining!