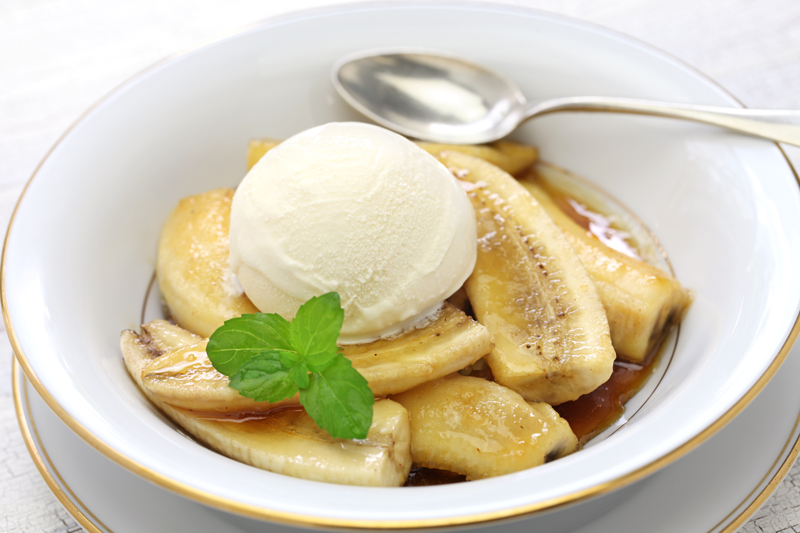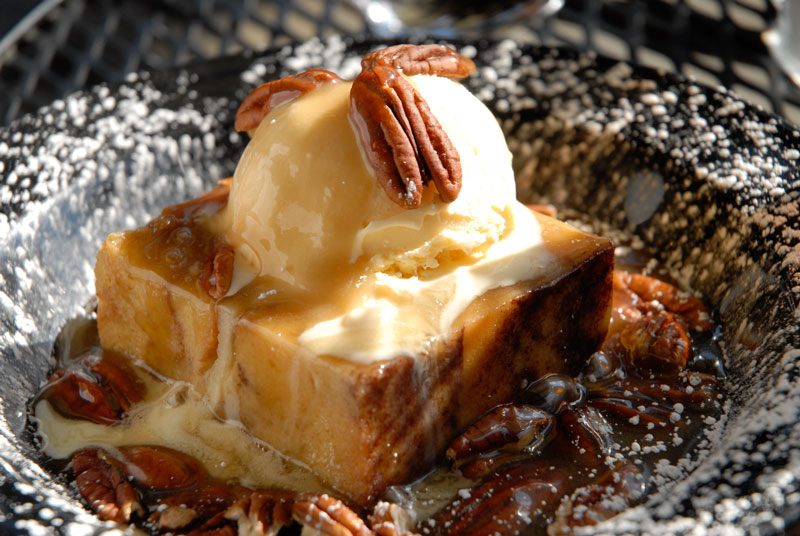 When you think of the must-try food in New Orleans the culinary wonders spread far beyond the French Quarter and the iconic Creole and Cajun restaurants. You can easily find delicious renditions of the New Orleans and southern staples that make the food-bucket lists for very good reasons in many restaurants Uptown. From ambitious newcomers to old-world landmarks — there's much to recommend for you to try.
There's a slew of restaurants along the St. Charles Avenue streetcar route, so you can hop on and off the streetcar while sampling your way between Canal Street and the Riverbend. The commercial stretches of Magazine and Freret streets are also packed with restaurants and cafes, many with ample sidewalk and balcony seating. Here's a list of our favorite dishes that define New Orleans and where to try them Uptown.
Bread Pudding
What do you do with the leftover French bread? You make a classic Creole dessert, the bread pudding!
Where to try it: One of the best places in the city to try it is at Commander's Palace. This grand dame of Creole cuisine is a beloved landmark that's been occupying a tree-lined block across the street from Lafayette Cemetery No. 1 in the Garden District. Along with the turtle soup, the Commander's version of this dish is legendary. Dubbed the "Queen of Creole Desserts," the Creole Bread Pudding Soufflé is bread pudding whipped into a light fluffy soufflé, served with whiskey sauce added tableside.
Gumbo
One of Louisiana's most famous dishes, excellent gumbo is easy to find anywhere in New Orleans, it just depends on whether you like your gumbo with darker or lighter roux, and with meat or seafood (or laden with both). Most restaurants include at least two versions on the menu, the meat and the seafood, and tend not to stray too far from the classic Cajun and Creole recipes.
Where to try it: At Pascal's Manale, for one. This family-owned institution is over 100 years old, and its chicken andouille gumbo is excellent. Going back to Commander's Palace, its Creole gumbo is exceptional: Rich stock slow cooked with regional ingredients spiked with toasted garlic, Creole seasonings and local hot sauce. Or pair your seafood, or chicken and Andouille gumbo at Frankie & Johnny's with the restaurant's famous red beans and rice. The High Hat Cafe also offers great chicken and andouille gumbo ya-ya made with a dark roux (we also recommend you try the fried catfish). Part old-fashioned diner, part neighborhood bar and part Deep South food destination, the High Hat Cafe is located in a once-sleepy neighborhood thoroughfare bordering Tulane University. Now revitalized, the Freret Street corridor is a food and entertainment destination in its own right. Another plus? It's only two blocks from the Alder Hotel.
Jambalaya
This flavorful one-pot, rice-based dish is right up there with gumbo when it comes to well-deserved international fame, and can be found in many New Orleans restaurants. This staple traditionally incorporates stock, meat, seafood, long-grain rice, and vegetables (the "holy trinity" also used in gumbo — bell pepper, onion and celery). The main distinction is that the Creole version has tomatoes and the Cajun recipe does not.
Where to try it: We highly recommend the Creole jambalaya at Jacques-Imo's, which comes as an appetizer, but, really, so many restaurants do it really well it's difficult to single out the true standouts.
Pain Perdu
This breakfast and brunch mainstay means "lost bread," referring to the dish's ability to resurrect stale and otherwise lost to most purposes bread. For this version of French toast French bread is soaked in eggs and milk and then fried (sometimes deep-fried) or grilled, which results in a crisp and buttery exterior and a soft and custardy inside.
Where to try it: Surrey's Cafe and Juice Bar, in the Lower Garden District on Magazine Street, hands down. Surrey's acclaimed Pain Perdu is part of the full breakfast menu of Southern staples. You can wash down this fluffy, sugar-coated gem with one of Surrey's incredible organic juices.
Po-Boys
 A po-boy is a sandwich (just please don't call it that) that comes in as many versions as there are ingredients to stuff inside a loaf of French bread. Some of the classics are fried seafood, like oysters or shrimp, but the ingredients vary all the way up to French fries.
Where to try it: Jacque Imo's, Guy's Po-Boys, Mahony's, Domilise's Po-Boy & Bar, Zara's Lil' Giant Supermarket & Po-boys — the list goes on and depends on whether you want to enjoy your po-boy to go or on-premises. The lunch staple Guy's and Zara's grocery market are more casual, while the restaurants are sit-down affairs.
Raw Oysters
One of the quintessential New Orleans food experiences is having a dozen raw, and the deals are especially sweet during the happy hour.
Where to try it: Head to the Superior Seafood & Oyster Bar, located in a high-ceilinged, imposing building on the corner of St. Charles and Napoleon Avenues with some of the best views of St. Charles Avenue in the city. The full-service oyster bar doles out raw oysters, which you can enjoy with Superior's signature frozen pomegranate mojito. Another option is the bucket list, iconic Casamento's Restaurant, a staple and a go-to destination for fresh seafood since 1919.
Also on the streetcar's route on St. Charles Avenue, Luke offers a deal on raw oysters for its happy hour (3-6 p.m.), complemented by the French/German menu. If you'd like a really well-made martini with your dozen raw, head to the iconic Pascal's Manale, and stay for dinner.
Red Beans and Rice
In the past, Monday was traditionally laundry day in New Orleans, and also the day for having red beans and rice. Our laundry schedules aren't that rigid anymore, but you can still find a delicious plate of beans and rice around town, usually accompanied by a hunk of smoked sausage. While many restaurants still feature it as a Monday special, you can still find it on many menus on any day of the week.
Where to try it: Uptown, we recommend the renditions served up at Joey K's (as a cup standalone appetizer) at Parran's Po-Boys & Restaurant.
Snoballs
If you're here from March through October, no New Orleans visit would be complete without trying a local snoball. These heavenly, frozen concoctions of finely shaved ice and flavored cane sugar syrup are uniquely Southern and come with an explosion of flavors.
Where to try it: Your best options near the Alder Hotel are SnoWizard Snoball Shoppe with a creamy and sweet Mexican vanilla flavor as one of the standouts, or Plum Street Snoballs. Pink lemonade, bananas Foster, nectar cream, and vanilla orchid cream are just a few flavors you'll find at this cash-only joint with ample outdoor seating. Another New Orleans treat, yakamein, is available alongside classic snoballs at Red Rooster Snoball Stand (open year-round; look for Yet-Ca-Mein on the menu).
Southern Breakfast Staples
This is a loose term for a few of the New Orleans breakfast and brunch staples, including eggs done every which way, plus the ubiquitous shrimp and grits and biscuits and gravy. Many places do all those things right, but a few stand out. For instance, the Mardi Gras sandwich at The Camellia Grill is a must-try. Stuffed with turkey, bacon and corned beef, it's a meal in itself, and worth joining a fast-moving line of students, visitors and locals waiting for a seat. The classic 1940s diner is also famous for its grilled pecan pie and cherry-chocolate slushies, served by the white-jacketed staff.
Another inexpensive local hangout with Southern staples and plenty of local color, the upbeat Slim Goodies Diner, does many different kinds of scrambles, from meaty to vegan, called slammers. Try the Creole slammer, which comes with a biscuit, crawfish étouffée and hash browns.
A locally owned mini-chain with one location Uptown, Ruby Slipper hits all the right notes when it comes to brunch mainstays but with distinctly Louisiana twists. This brunch queen's acclaimed house specialty is BBQ shrimp and grits.
Turtle Soup
This Louisiana classic is considered a delicacy in many cultures across the globe. The silky Creole version, served with a touch of sherry (and sometimes with grated or chopped egg, and more sherry tableside), can be found in many classic New Orleans restaurants that serve Creole dishes.
Where to try it: Everything you decide to try on haute Creole menu at Commander's Palace will be top-notch, but the turtle soup is a must.
We hope you try all these classic New Orleans dishes while you explore Uptown!