Must-Try Po-Boys at the Po-Boy Festival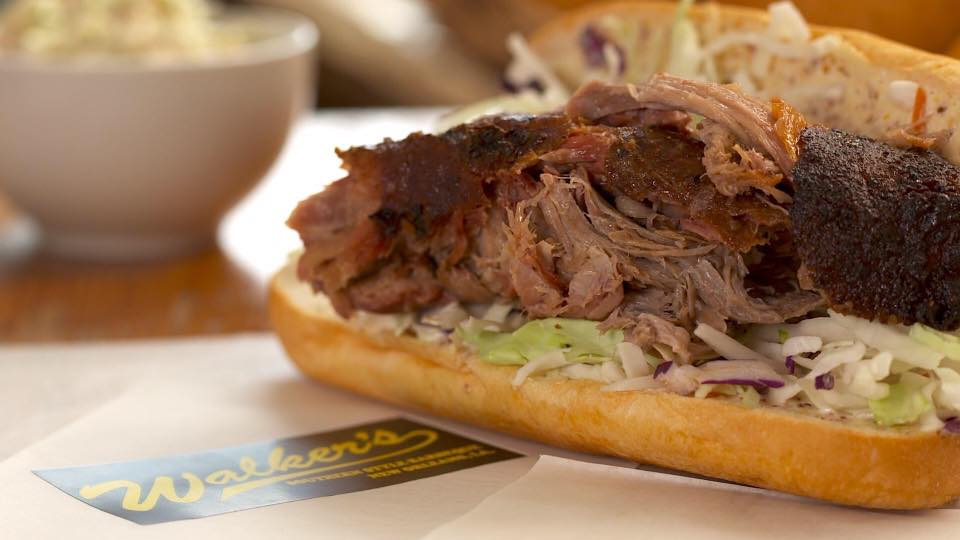 Cochon De Lait po-boy from Walkers BBQ, photo courtesy of Walkers BBQ on Facebook
One thing New Orleanians can agree on, the po-boy satisfies hunger like nothing else. The once-humble sandwich has gone high-class in recent years, with top chefs serving their own inventive takes. But you can still find hearty 12-inch versions spilling fried shrimp and oysters for under $10 in local corner stores. There's a po-boy for every budget and palate—and at the Po-boy Festival on Sunday, November 12, 2017, you can sample the best po-boys the city has to offer. Here's just a taste of what to expect.
This Bywater fixture brings three standout po-boys to the fest: shrimp, softshell crab and stuffed crab. The seafood is fresh, the presentation is classic, and the portions are huge—you can't go wrong no matter what you order.
Antoine's may have invented oysters Rockefeller (broiled oysters on the half-shell topped with a buttery, herb-filled sauce), but Bobby Hebert's offers an inventive new twist. Try the sport bar's oysters Rockefeller po-boy at the fest.
Boucherie offers sophisticated takes on Southern cuisine—and its po-boys are no exception. Horseradish and pickled red onions top the 12-hour roasted waguy beef po-boy, served on bread from Dong Phoung. Or, try the New Orleans-style barbecue shrimp version. (Spoiler alert: the shrimp is cooked in skillet with Worcestershire, lemon juice, black peppers, Creole seasoning, and garlic—not over a grill.)
Duck meat is slow-roasted and shredded, roast-beef style in Crabby Jack's famous duck po-boy—it's savory, rich and indulgent, everything a po-boy should be.
The cochon de lait ("pig in milk") is a Cajun tradition: a whole suckling pig slow-roasted over an open hardwood fire. But you don't have to claim Acadian ancestry to enjoy this Louisiana delicacy. Walker's cochon de lait po-boy layers shredded pork, cabbage and house-made horseradish sauce. The sandwich routinely sells out at Jazz Fest, and has been lauded by Esquire magazine, USA Today and anybody else who gets their hands on it.
This casual Uptown eatery specializes in po-boys, both classic and inventive versions. At the fest, try the pork belly and pickled mustard green po-boy, served on airy Leidenheimer bread.
Dunbar's Creole Cuisine
This family-owned spot recently reopened after being shuttered since Hurricane Katrina—and fans have welcomed it back with open arms (and mouths). The Crawfish Bisque po-boy and Crazy Chicken po-boy are on the menu at the fest.
Intimate and candlelit, Vincent's is the place for a romantic meal—and the food tastes like something your Italian grandmother would make (if you had an Italian grandmother). The Godfather po-boy marries three savory meats: Italian sausage, meatballs and daube meat (beef slow-cooked in a red sauce, like a brisket) and tops them with mozzarella cheese.