October in New Orleans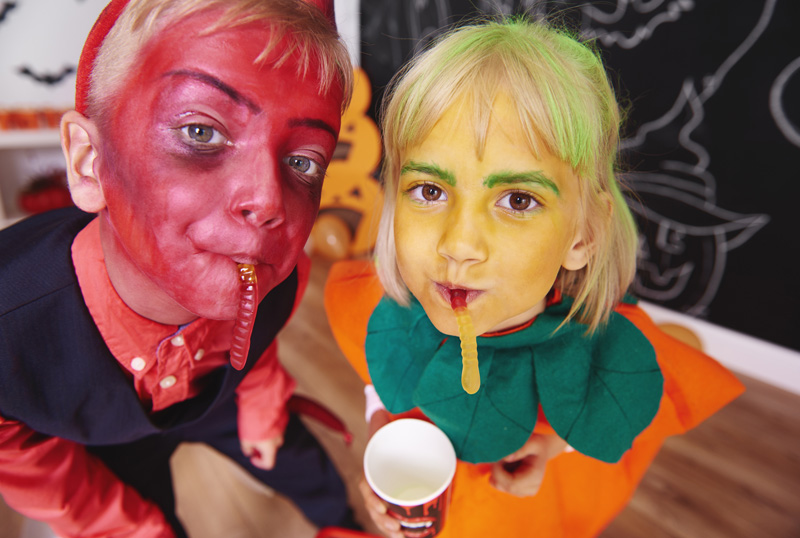 Get ready! October is an amazing time to be in New Orleans, and we're not just talking about Halloween. October is packing over a dozen music and foods festivals alone, not to mention the milder temps you'd want to be here for. Here are the highlights of what's going in New Orleans in October.
Oktoberfest
October 4-5, 11-12, 18-19
New Orleans throws its version of Oktoberfest over the three weekends in October at Deutsches Haus in Mid-City, to celebrate the city's rich German history with all the usual trappings, including authentic food and live music.
Art for Art's Sake
October 5
One of the best attended art events in the city, this annual fundraiser is an open house for the New Orleans Contemporary Arts Center (CAC) and an opportunity to browse the shops and galleries in the CBD district and along the commercial stretch of Magazine Street. Enjoy extended hours, special deals, live music, and beverage sampling.
Beignet Festival
October 5
This annual extravaganza returns with a free, daylong party at the Festival Grounds in City Park (4 Friedrichs Ave.) from 10 a.m. to 6 p.m. This is your opportunity to sample over 30 renditions of the beloved beignet, from traditional sweet treats swimming in powdered sugar to savory options bursting with seafood and cheese. There will be vegan and gluten-free beignets to accommodate every diet, and awards will be given in several "Best of" categories once again. Don't forget to vote for your pick!
Tremé Fall Festival
October 5
This local fave throws a serious party in the blocks connecting Henriette Delille, Tremé and Gov. Nicholls Streets in one the nation's first African American neighborhoods during the first weekend of October, just as the weather is getting nice. Most of the action is centered in front of the historic St. Augustine Church on the 1100 block of Henriette Delille Street. Expect entertainment from New Orleans musical royalty and food trucks and vendors from some of New Orleans' best eateries. The festival is donation-based.
Mac n' Cheese Fest
October 12
This free annual fest is held at the Louis Armstrong Park and keeps expanding to accommodate its growing popularity. This year, it will feature a judged competition among the dozens of mac 'n' cheese dishes from Louisiana restaurants, pop-ups and food catering businesses, an artist market, and an eating competition.
New Orleans Film Festival
October 16-23
To date, the New Orleans Film Festival is one of the largest film festivals in the South and is the longest-running one festival of its kind in the state. The festival has grown to the point of attracting thousands of attendees and industry insiders, plus more than 400 filmmakers and over 200 films annually. It's one of the few film festivals in the nation that showcases Oscar-qualifying films drawn from all three Academy-accredited categories: Narrative Short, Documentary Short, and Animated Short. Venues include Broad, Orpheum and Prytania theaters, and the festival's hub, the Contemporary Arts Center.
Crescent City Blues and BBQ Festival
October 18-20
Presented by the New Orleans Jazz and Heritage Foundation, the free, over-decade-old fest always sports an eclectic lineup, consistently booking a mix of young talent alongside seasoned blues veterans. And that's before you even consider the wide variety of BBQ vendors that surround Lafayette Square throughout the weekend.
Just like in the past years, there will be two stages of music and a huge arts market. As always, the event will include copious amounts of barbecue, with some of the best barbecue vendors in the region. Past vendors have included McClure's, Blue Oak BBQ, The Joint, and many, many others. The spread will honor several regional styles, with an emphasis on Louisiana — made easier than ever with the recent proliferation of BBQ restaurants on the New Orleans dining scene. Beyond BBQ, there will be, of course, options for vegetarians, plus vegan and gluten-free fare.
Krewe of Boo
October 19
Krewe of Boo is one of the city's most impressive parades outside of carnival season. This Halloween procession kicks off at 6:30 p.m., starting at Elysian Fields Ave. and rolling through the Quarter to the Warehouse District. Expect plenty of floats and dance troupes, all themed after monsters, spooks, and general ghostly goodness that's not too scary even for the youngest kids.
The parade is brought to you by Kern Studios, so expect the usual 3-D fiberglass and papier-mâché extravaganza. Parade-goers are encouraged to come in costume. Expect plush toys, candy and unique, eco-conscious throws. The fun ends with a ticketed post-parade costume party.
Additionally, that morning the Krewe hosts its annual New Orleans Zombie Run. This two-mile race starts at 9 a.m. and ends at noon, both at the Lucy's Retired Surfers Bar & Restaurant (701 Tchoupitoulas St.). Participants are encouraged to come dressed as zombies and monsters. Registration for the race begins at 7:30 a.m. You can also pre-register online.
Voodoo Music + Arts Experience
October 25-27
This massive annual undertaking has started small, eventually becoming a mega fest with thousands of costumed attendees, big headliners, art installations, and a weekend of great music among the oaks. These days Voodoo Fest is considered second only to the New Orleans Jazz & Heritage Festival in attendance. The fest will be held at the New Orleans City Park Festival Grounds (4 Friedrichs Ave.). Because parking will be limited we recommend hopping on the streetcar that runs along N. Carrollton Ave. and will bring you right to the City Park.
Halloween
October 31
In New Orleans, Halloween is much more than just a night for kids to go treat-or-treating, although there's much to do with the little ones for Halloween too. Teeming with costume balls, street parties, and, of course, the Krewe of Boo parade, the two weeks leading up to the day itself are packed with some ghoulish, outlandish treats.
Not to be confused with another, Halloween-weekend Voodoo Fest, which is a massive music festival, Voodoo Authentica's VoodooFest will be held inside and outside the shop on the day of Halloween, from 1 to 9 p.m. There you can shop for potion oils, gris gris bags, voodoo dolls, plus African and Haitian art; witness an ancestral healing ritual, or speak to the priests about this version of faith.
Throughout October, the historic Hermann-Grima House, located in the French Quarter (820 St. Louis St.), changes up its historical tours to explore the mourning spaces of the 19th century. During a guided tour you'll explore the property while learning about the religious and cultural significance of death for the families living here in the 19th century.
You can also take any of the themed and historic tours offered this time of year, from the popular haunted tours to the vampire and voodoo tours in the French Quarter or the cemeteries tours in Mid-City or Uptown. One of the tours offered, the French Quartour Kids Spooky Tour, caters specifically to kids ages 4-8, leaving the gore out. (Also, check out this guide to family-friendly Halloween events.)
Or, you can all trek Uptown to see some over-the-top decorated houses. The lawns at St. Charles Ave. and State St. and at Magazine and Second Streets, in particular, go above and beyond with scores of skeletons, holograms, music, and dazzling lights.
Looking for some grownup fun? Strut your stuff and see some fabulous costumes on Frenchmen St. in the Marigny, where a massive street party has been breaking out for years on Halloween night. Things really get going after 10 p.m., and there are plenty of bars to duck in and out of to recharge and replenish.