Events Not to Miss This Spring in New Orleans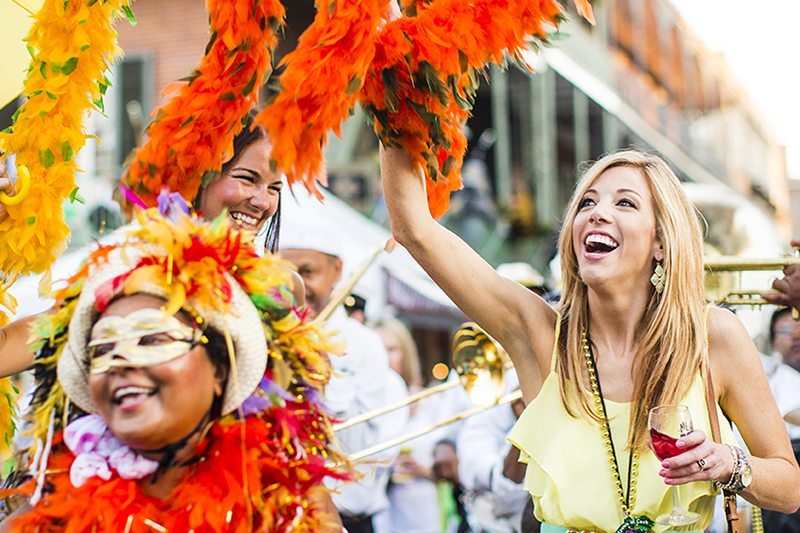 Photo by Chris Granger courtesy of New Orleans Wine & Food Experience
New Orleans loves to throw a party, and this is especially true in the spring, when the weather is pretty much perfect, and there are dozens of festivals featuring the best of live, local music and honoring every type of food we love. There's something to do every weekend starting in March and through June, and many events are free. Here's what you shouldn't miss this spring.
Mardi Gras
Friday-Tuesday, March 1-5
If you're lucky to be here during the first weekend of March you can help wrap up the Carnival season. The Mardi Gras weekend preceding Fat Tuesday (March 5) is the greatest six days of the year to be in New Orleans as it's super packed with parades, block parties, balls, and all kinds of revelry. Check out the schedule of this year's parades that will roll in March and through Mardi Gras Day. There will be three to five parades daily/nightly starting on Friday, March 1, in various parts of the city. Among the most popular parades are the super-krewes of Endymion, rolling in Mid-City on Saturday, and Bacchus, happening Uptown on Sunday. Also, don't miss the annual Greasing of the Poles at the Royal Sonesta Hotel on Friday and the Lundi Gras Festival at the Woldenberg Park on Monday.
Top Taco Fest
Thursday, March 14, 6-9 p.m.
The third annual Top Taco Fest takes place at Woldenberg Park with unlimited tacos and tequila, plus live music and special guests. New Orleans' top chefs and mixologists from about 50 local bars and restaurants will complete in several categories, including Top Creative Taco and Top Traditional Margarita. Proceeds from the fest will benefit Foster NOLA. Tickets start at $75.
St. Patrick's Day
Sunday, March 17
There's plenty of Irish in this town, so the weekend of St. Patrick's Day is an important one for the city of New Orleans. Several parades kick off, including a procession that starts and ends in the French Quarter in front ofMolly's at the Market(on Friday, March 15), and the infamous Irish Channel parade (on Saturday, March 16), where float riders pass cabbages to the screaming crowds. Also, the Downtown Irish Club Parade rolls on Sunday, March 17, from the Bywater to the French Quarter, making several pit stops on its way to Bourbon Street.
Super Sunday
Sunday, March 17; starts around noon
The annual gathering of the Mardi Gras Indian tribes is perhaps the most open means of accessing this unique element of New Orleans backstreet culture. You might see the Indians out and about on St. Joseph's Day (Tuesday, March 19), and the tribes will be out in larger numbers on Super Sunday, which usually falls on the third Sunday of March, coinciding with St. Patrick's Day this year.
While the Mardi Gras Indians have their set routes and parade areas, no one event packs the tribes into one public space like Super Sunday. In this case, said public spaces are A.L. Davis Park, at the corner of Washington and LaSalle streets; and Bayou St. John in Mid-City, at the intersection of Orleans and Moss streets, on the bayou's banks and the Orleans Street bridge. The Indian procession usually leaves the gathering spot around 1 p.m. This year, the free festivities will begin at noon at the A.L. David Park.
We can't stress this enough: Be respectful if you go. Take pictures at a distance, and don't get in the way of marching Indians or their friends, family and attached bands. Super Sunday has been overrun with spectators in the past few years, so please do your part to enjoy this amazing cultural event responsibly.
To learn more about the Mardi Gras Indians please visit theBackstreet Cultural Museumin the historic Tremé neighborhood.
St. Joseph's Day
Tuesday, March 19
The New Orleans Catholics celebrate St. Joseph's Day with elaborate altars that are open to the public and communal meals held at Catholic churches throughout the city (and even some private homes). You can usually find the up-to-date list closer to the event in local newspapers and on Nola.com.
The tradition began in the late 1800s, when Sicilian immigrants settled in New Orleans in large numbers. The altars are a thing of beauty, laden with flowers, food, candles, wine, and statues. Because the day honors St. Joseph, who has relieved a famine in Sicily, food is the focal point, and a meal is usually provided as part of the festivities. You can also take some of the traditional Italian cookies with you, along with a prayer card and a fava bean, the "lucky bean" associated with St. Joseph because they sustained the Sicilians throughout famine.
Also, don't miss the Italian-American St. Joseph's Parade on Saturday, March 23. It's hosted by the American Italian Marching club and starts at 6 p.m. at the intersection of Convention Center Blvd. and Girod Street downtown, then making its way into the French Quarter. The parade rolls with 16 floats, nine marching bands, and marchers dressed in black tuxedos and doling out silk flowers and lucky beans.
Wednesday at the Square
Every Wednesday, March 20 – May 22; 5-8 p.m.
Unwind with a cold beverage on any given Wednesday at the Square, a free concert music series held in the spring in Lafayette Park (located one block off of Poydras Street, between St. Charles Avenue and Camp Street) every Wednesday from 5 to 8 p.m., in the heart of the Central Business District. From March and through May, these outdoor concerts feature a variety of jazz, rock, swam pop, brass, Latin rhythms, and more. Bring a chair or a blanket, or head to the front of the stage to partake in some dancing. You can bring your dog, and there are vendor booths surrounding the park where you can buy food and alcoholic and non-alcoholic beverages (no outside food or beverages, please).
BUKU Music + Art Project
Friday-Saturday, March 22-23
A mere eight years old in 2019,BUKU Music + Art Project has already established itself in the firmament of can't-miss New Orleans festivals. It's the youngest major musical event of the year on several levels — not just by dint of its age, but by dint of the people attending the shows. Few other New Orleans events attract such a heavily millennial crowd, although we don't want to give the impression it's only under-30s at these shows; BUKU is for all ages.
Still, said ages better appreciate electronica, EDM, hip-hop, and indie music — BUKU doesn't try and loop in every act in the world, and instead focuses on the music it loves, plus creating a curated underground house party experience (albeit a party with a ton of sweet art installations). BUKU takes place at Blaine Kern's Mardi Gras World along the Mississippi Riverfront. There are four stages, two of which are outdoors. Art demos include the annual Live Graffiti Gallery and a collaborative mural by street art stars. Lana del Ray and A$AP are among the headliners this year. One-day passes start at $105.
New Orleans Entrepreneur Week
Monday-Friday, March 25-29
Things take a more serious turn with theNew Orleans Entrepreneur Week(NOEW). The weeklong series of events is produced by the A.B. Freeman Business School at Tulane University and The Idea Village, and takes place citywide. NOEW features notable speakers, covering such topics as business and innovation. Ace Hotel New Orleans hosts a NOEW Summit on Thursday and Friday.
Tennessee Williams Literary Festival
Wednesday-Sunday, March 27-31
The Tennessee Williams Literary Festival celebrates this city's love affair with the written word, as well as writers' love affair with New Orleans. Notable authors will be in attendance, hosting seminars, workshops and lectures. Plus, this being theTennessee Williams Festival, there is, of course, a "Stella" and "Stanley" contest, which involves folks screaming out the iconic scene from A Streetcar Named Desire to appreciative crowds onJackson Square.
Saints & Sinners Literary Festival
Friday-Sunday, March 29-31
The city will also host theSaints & Sinners Literary Festival, an alternative literary event that celebrates LGBTQ authors. The three-day festival will include panel discussions, master classes, and a fair amount of networking opportunities between authors, editors and publishers.
Hogs for the Cause
Friday-Saturday, March 29-30
Another popular March event isHogs for the Cause, a meat-centric annual fundraiser for pediatric brain cancer held at the UNO Lakefront Arena. Dozens of barbecue chefs compete in seven categories, including fan favorite, whole hog, ribs, and sauce. This year's music lineup includes the Hot 8 Brass Band, Lost Bayou Ramblers, and Dumpstaphunk with George Porter, Jr. Tickets start $30.
Congo Square New World Rhythms Festival
Saturday-Sunday, March 30-31; 11 a.m. – 7 p.m.
The New World Rhythms Festivalis a celebration of global and local music, and offers both amazing food and a fantastic lineup of music. Held inArmstrong Park and presented by the New Orleans Jazz & Heritage Foundation, this free festival features Mardi Gras Indians, African dance, brass bands, soul-funk, as well as indigenous music of Honduras, and highlife from West Africa. The large art market and a Soul Food Court complete the experience.
Don't miss one of the fest's highlights, the Mardi Gras Indian "battle" — when the tribes gather in the center of the square, plus the festival's largest to date assemblage of New Orleans-based African dance troupes (they will all perform on Sunday). Big Chief Monk Boudreaux, the Grammy-winning Rebirth Brass Band, and the Original Pinettes Brass Band are scheduled to perform.
New Orleans Wine and Food Experience
Wednesday-Sunday, April 3-7
The French Quarter-centricNew Orleans Wine and Food Experienceraises the bar every year with its epic dinners with wine pairings, wine tastings, seminars, cooking competitions, and even a second-line parade (led by the Krewe of Cork). With the hundreds of local restaurants and international and domestic wineries participating in this annual event, the event has raised millions for local nonprofit organizations, from culinary schools to food banks.
Freret Street Festival
Saturday, April 6; 11 a.m. – 6 p.m.
April in New Orleans marks the height of the festival season, starting with the annualFreret Street Festival, held on the first Saturday in April. This free neighborhood festival has been growing since the mid-1990s, with about 200 vendors participating this year, and three music stages.
French Quarter Fest
Thursday-Sunday, April 11-14
Next up is the immensely popularFrench Quarter Fest, also free. Held on the second weekend of April, it's been around for over 35 years, featuring the best the city has to offer in food and drinks, and several stages of non-stop live music. This year you can dance in the streets of the French Quarter to Kermit Ruffins & the Barbeque Swingers, Galactic, Rebirth Brass Band, Irma Thomas, Lost Bayou Ramblers, and many more top-notch acts.
New Orleans Jazz & Heritage Festival
Friday-Sunday, April 26 – May 5
The last weekend of April and the first weekend of May marks one of the biggest, most anticipated, and always well-attended events this side of Mississippi. Visitors from all over the world flock to the Fairgrounds for the food and the music of theNew Orleans Jazz & Heritage Festival. Celebrating 50 this year, Jazz Fest 2019 added an extra day on Thursday, April 25.
The festival features the local favorites like the Rebirth Brass Band and Trombone Shorty along with the nationally acclaimed headliners including Jimmy Buffet, Katy Perry, Dave Matthews, Diana Ross, Al Green, and many more. The Rolling Stones will also headline on Thursday, May 2. The music is the focal point, of course, but don't miss the second lines, the art vendors, and the local food favorites like Crawfish Monica and cochon de lait po-boys.
Hancock Whitney Zoo-To-Do
Friday, May 3; 7 p.m. – midnight
The first Friday of May brings usWhitney Zoo to Do, an annual fundraiser for the Audubon Nature Institute and the chicest gala in town. It's held on the Zoo's grounds and features live music, a silent auction, and food and cocktails from dozens of the best restaurants and bars in the city.
Bayou Boogaloo
Friday-Sunday, May 17-19
This Mid-City-based music and food festival is held on the banks of Bayou St. John over the third weekend of May. Bayou Boogaloo grew from the post-Katrina scrappy little neighborhood festival to a four-stage, multiple-vendor extravaganza. Since its inception in 2006, the festival now draws upwards of 35,000 people and has become as much a fixture on the festival calendar as its Mid-City neighbor, JazzFest, and the city's street-party season opener, French Quarter Fest.
Head to the sprawling, picturesque banks of Bayou St. John between Dumaine Streets and Lafitte Avenue to sample some of the best food New Orleans has to offer from the likes of Boswell's Jamaican Grill and Ajun Cajun plus adult beverages from Pal's, Pearl Wine Company, and others. The fest's bucolic setting as a floating party, with its flotillas of inflatables, paddleboats and kayaks, gives the three-day festival its own unique character. And, just like in the previous years, the festival is free, pet- and kid-friendly, and has a stellar lineup of live music on its four stages, including the best of the brass bands, zydeco, Mardi Gras Indians, and other incredible New Orleans and Louisiana acts.
Greek Fest
Friday-Sunday, May 24-26
Greek Fest takes place over the Memorial Day weekend at the Greek Orthodox Cathedral of the Holy Trinity (1200 Robert E. Lee Blvd.). This annual tradition beloved by locals is worth the trip to Lakeview for its food, music, cooking demos, Hellenic dance performances, and even a toga contest. Expect traditional Greek music featuring bouzouki guitar, dancers in traditional costume, and kid activities. Greek staples like souvlaki, baklava, spanakopita, and gyro will be served ($7 per day; $17 weekend pass).
New Orleans Oyster Festival
Saturday-Sunday, June 1-2; 10:30 a.m. – 8 p.m.
Going into June, the spring festival seasons closes with a bang and two free food festivals. TheOyster Festivalis held on the first weekend in Woldenberg Riverfront Park in the French Quarter. Slurp and savor everything oysters at this two-day fest featuring live music, arts and crafts, and oyster shucking and eating competitions. Tremé Brass Band, Lost Bayou Ramblers, Bucktown All Start, and Bag of Donuts are all scheduled to perform this year.
French Market Creole Tomato Festival
Saturday-Sunday, June 8-9; 10 a.m. – 7 p.m.
Another annual favorite is theFrench Market Creole Tomato Festival. Traditionally held on the second weekend of June, the fest welcomes the arrival of Creole tomato that Louisiana loves to incorporate into crepes, crawfish pies, and even gelato. Stroll the French Market while you sample the fried green tomatoes and the Bloody Marys, or try the always-popular Creole tomato with shrimp salad. The fest also features live music and cooking demos.
As you see, the spring season in New Orleans is loaded with activities and events, and with the right planning and the willingness to eat and dance with gusto you can have the best time the city has to offer!